Concrete Reinforcing Steel Installation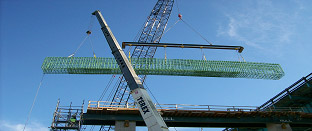 HGI Inc offers steel reinforcing specialty services in Ohio and Michigan. Since HGI specializes in one area of the industry, it enables us to give every project we work on full attention to detail and be vastly experienced in what we do.

HGI Inc employs and provides skilled ironworkers to install reinforcing steel, wire mesh and rebar accessories. Our Union ironworkers are professional, skilled, trained, experienced and efficient. At HGI, we strive to provide our clients with superior workmanship which is performed in a safe, expeditious manner that will meet and exceed customer expectations.

Reinforced steel is used to help strengthen a structure and prevent the concrete from coming apart and limiting cracking. Reinforced concrete is typically used in walls, footings, foundation walls and columns just to name a few areas. HGI Inc offers concrete steel installation in Ohio and Michigan using the following:
Rebar
Rebar is the shortened version of the term reinforcing bar and it is used in various different types of reinforced concrete. Rebar is formed out of steel, comes in several different weights and diameters and has ridged edges. Rebar has ridged or a rough surface so that it grips the concrete better and this leads to a stronger and more stable structure.

Welded Wire Mesh
Welded wire mesh is different from rebar in the sense that it is wire that is welded together to form a square pattern that is flat. Welded wire mesh is often used to reinforce flooring and concrete slabs. Welded wire mesh is laid in a grid pattern and is welded together at each place where the wires cross.
Projects We Service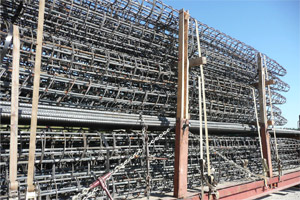 HGI Inc will install reinforcing steel, rebar, welded wire mesh, post tensioning and rebar accessories on many types of public and private structures. Public structures include civil, education and medical buildings, while private includes commercial and industrial installations. Some of the most common structures that we have worked on in Ohio and Michigan include:


• Bridges
• VA Hospitals and Hospitals
• Manufacturing Facilities
• Schools
• Waste Water Treatment Plants
• Pump Stations
• Parking Garages
• Airports
• Government Projects
If you are interested in HGI Inc's reinforcing steel services, one of our experienced and professional staff members will be happy to assist you.