About HGI Steel
HGI Inc is the premier subcontractor specializing in concrete reinforcing steel. HGI Inc is located in Toledo, Ohio and serves Ohio and Michigan. The company began in 1989 and has over 20 years of experience in the steel industry. At HGI Inc, we place the highest value and attention on our customers and our projects. Some of the core values we believe in at HGI include:


• Top Notch Customer Service: Whether you are a potential client calling to ask a few questions, a current client or a past client, we treat every person with dignity and respect. We know how important your project, time and budget are to you and when you hire HGI Inc, you will receive the highest level of customer service from one of our experienced staff members.

• Experience: At HGI, we only employ highly trained and skilled Union rebar ironworkers. Our ironworkers are members of the International Association of Bridge, Structural, Ornamental and Reinforcing Ironworkers (IABSORIW). Along with being highly skilled and qualified, all of our workers work within industry standards to ensure job safety, accuracy and on time completion.

• Safety: HGI Inc takes all necessary precautions to ensure that all of the projects we work on are completed safely. Our profession requires us to work with heavy equipment and work at times on tall structures. HGI's priority is to protect our workers, other contractors working on the project and the structure we are working on. HGI is also fully bonded and insured.

• Being Part of the Community: Many of the projects we have completed or are in the process of completed are located in our hometown of Toledo, Ohio. Some of our local projects include the Pharmacy and Collier additions at the University of Toledo and the Owens Community College Center for Emergency Preparedness in Perrysburg, Ohio. HGI Inc is also proud to announce that we are certified in the city of Toledo, Ohio as a Woman's Business Enterprise (WBE).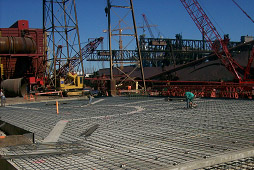 HGI Inc installs concrete reinforcing steel, welded wire fabric (WWF) and rebar accessories for several types of projects and structures. Projects include new construction and existing renovations in Ohio and Michigan. A few examples of the type of structures we work on include but are not limited to:


• Schools
• Wastewater Treatment Plants
• Automobile Factories
• Hospitals
• Bridge Decks
• Refineries
• Government Buildings and Projects
• Parking Garages
• Pump Stations
For more information regarding HGI's steel reinforcing services and projects, feel free to call our office and speak to one of our professional and experienced staff members.